I have decided to mix things up as far as the topics I cover in my blog. I have been thinking of what topics would be cool to wire about; so far I have jotted down a few topics.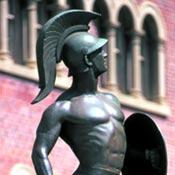 Tommy Trojan: University of Southern California Symbol

In light of the USC Trojans winning the National Football Championship I would like to write about my alma matter, the first thing that I would like to write about good ol' SC is the USC marching band. I have been dying to buy a USC marching bank CD, but have been too busy to swing by the USC bookstore. So watch out for that article!
Los Angeles Clippers

Also, I would like to write about the Los Angeles Clippers. I have been a die-hard fan since Larry Brown coached the most underachieving basketball team in the NBA. I want to discuss why have they been underachieving all these years!?
This should lighten things up around here a little bit! :D